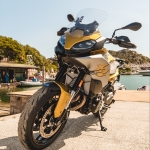 The new BMW F 900 XR is an exemplary mid-size Touring characterized by a standard windshield, an overall higher and more upright riding position also in the light of a 30 mm raised and 85 mm backed handlebars, then platforms lowered by 45 mm and positioned more forward 45 mm, as shown. The frame is made of steel linked to a new rear frame and the engine always appears as a stressed component.
Rental office in Alghero , Olbia and Cagliari.
Delivery and support around the island!